Rapeseedoil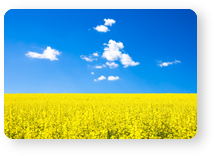 Rape oil or rapeseed oil is obtained from rapeseed.
Rapeseed is harvested and processed in a modern way, similar to for example grain.
Canada, India, China and Australia are major producers of rapeseed. In Europe the crop grows mainly in France, Germany and Eastern European countries. In the Netherlands we mostly grow winter rapeseed.
Rapeseed oil (which also used to be called salad oil) is used widely as a frying oil as well.