Sunflower oil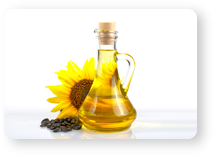 Sunflower oil is obtained by pressing sunflower seeds and is a liquid oil
Around 1570, Spanish seamen shipped the crop from Central America to Europe where it was then used as an ornamental plant.
European sunflower fields are mostly found in France, Spain, Turkey, Romania, the Ukraine, Russia and Bulgaria.
Argentina, Brazil, South Africa and North America are some of the countries outside Europe that grow sunflowers.
Sunflower oil is widely used in the margarine industry and as a frying and edible oil.
High Oleic Sunflower Oil
This sunflower oil contains a high level of oleic acid which is said to make it even "healthier".